Catadel
Catadel Updated to v0.2.43
---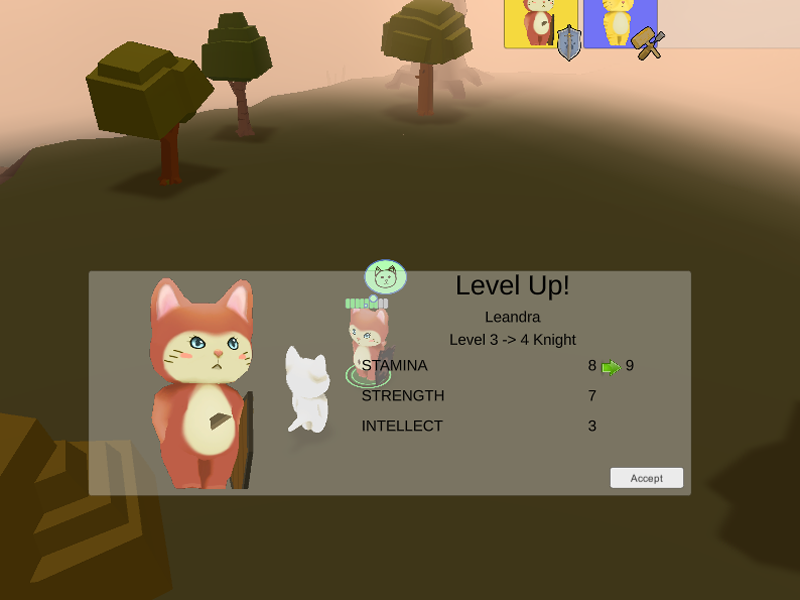 This update took awhile because it there had to be some major back-end changes.
Release Notes:
All cats have abilities now (not just the architect). The Knight now has a "Attack Here" ability. Left Click the attack here ability button and then Left Click on the ground to select where to go. The knight will attack everything it sees as it goes toward the destination point.
Some Buildings now have abilities too. The Market now can be upgraded. The Buy/Sell interaction has been changed to be an ability. Left click the market to select it and see its abilities.
Level Up has been reworked. When a character has gained enough experience to go to the next level, they will get a "Level Up" button in their panel. Click the button to level up the character. Characters will gain 1 stat in their primary stat per level up and have a chance to gain a point in their secondary stat.
Save/Load has file formats have been reworked to be more robust. However, this means old save files are no longer compatible.
Added screenshots to save files
Managing a Major profession's apprentices is now an ability. Click the "Manage Apprentices" ability to show a dialog. This is still work in progress so the UI experience will improve in the future. For now, selecting a villager in the dialog and clicking "Ok" will add them to your apprentices if you have available slots. Selecting an apprentice and clicking "Ok" will demote that apprentice back into a villager and give you back that slot.
Game publishing is now hooked up to Butler so it should be easier to update to the latest version of the game.
There are some other changes too, but it's late at night and I wanted to get this change out there. I also need to write up something about setting up a build system for Unity using Jenkins, etc. That was one heck of a weekend.
There have been quite a few changes, so please check it out and give me feedback in the comments.
Thank you so much for playing!
Files
catadel-osx-universal-latest.zip
145 MB
Version 0.2.43
Jun 06, 2018
catadel-win32-latest.zip
122 MB
Version 0.2.43
Jun 06, 2018